Name:
Rai Asakura
Age:
20
Subject:
PE
Time:
Both
Gender:
Male
Experience:
Rai doesn't have much experience in school teaching, but he has been captains of many sports while he was in high-school and collage, he has also done some coaching for young kids outside.
Appearance:
Rai is a tall, muscular guy. He has white skin which fits well with his long black hair. His hair is espcially long in the front that it sometimes hide his eyes, the back is just up to the neck. To girls he looks like a star, to guys, he is a role-model. His eyes are light blue, the color of the sky. He would always be smiling if he is with other people, but inside he isn't. He wears white, fit-size, no-sleeve shirt and while he teaches he wears a coach jacket on top of it.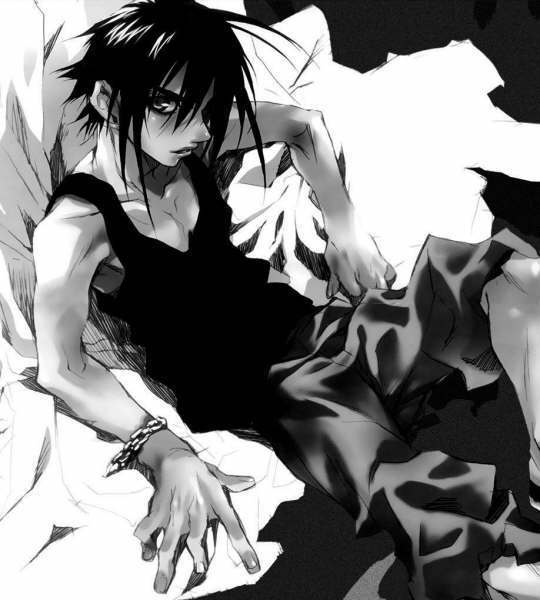 Personality:
The nicest teacher on Earth, most of the students, say but that isn't all true. Rai is actually self-centered and cruel, he doesn't have a heart...or it was that he didn't have one anymore. He mostly likes to be alone and not disturbed but being a young PE teacher, he is and he never is able to be alone as much as he wants to be. He doesn't like to teach but he does like coaching sports and that's why the school wanted him to be the PE teacher. He was a nice young man in the past but everything changed when he came back. Rai hates people who bugs him but his other problem is that, he gives things in easily.
History:
Rai Asakura was born in that town, and lived there for all his life. He lived with his father who was also the PE teacher of Death high, his mother died when he was born. He has a older sister but she disappeared when he was around 12. Rai's past, was a nightmare, filled with nothing but horror.
After he grew up, he went to Death-High, he learnt about the Death hours and was also the first students to fight them. He wasn't so much of an emo at such thing, actually he was kind and caring person, he didn't want the innocents to get hurt. That was his reason for fighting.
But on the 3rd year of his high-school life, his curse to life, didn't end yet. The person he loved and adored most in life, was killed by the Deaths, or one special "Death". She was the daughter of the Touya Family, or to say, the the founders of Death-High. He was lost and hurt, after he gragulated, he went to a far away collage, never to come back to that town or that school.
Still the curse didn't leave him, after he finished collage, the school called him back, to become a teacher and help fight the deaths at the same time. Rai didn't agree at first, he wanted nothing to do with that school or fighting with the Deaths again, but he heard that the daughter of the Touya Family survived? Though he didn't believe it, he wanted to know it. She had died in his own arms and yet she survived?
He agreed to come back to the school, teach and fight the deaths at the same time, and find a way to stop the Death hours...also find out why 'she' had survived her death.
Hobbies:
smoking and sports
Rp sample:
Rai was alone, at last, he thought. He was standing still, leaning on the wall of the school grounds. No one was there with it, everyone was in their classes and it was his free period. He took out his cigarrate and flamer, he fired it up and put it in his mouth. As the smokes went up he looked up at the ceiling, "I haven't found out anything yet" he thought, "It's already been a week that I've been here"
Then he heard some foot-steps, his eyes were still closed, "what?" he asked the woman behind him,
"you aren't allow to smoke" she said, he looked back at her, that dereted secretary. The woman pointed at the sign, "no smoking".
Rai rolled his eyes and dropped the cigarrated then stepped on it hard, squicking it with all his might and all his anger.
The woman looked amused, Rai ticked and then walked away, "Darn..." he mumbled.
Ability:
Rai is super fast, he is still in combats between Deaths as he as already done it before.
Student's View:
Sexy, the dream teacher.